The
New Yorker
has a harsh critique of some Venture Capital firms, like the ones that funded WeWork:
A widely read summary by a Harvard Business School professor, Nori Gerardo Lietz ... exposed WeWork's "byzantine corporate structure, the continuing projected losses, the plethora of conflicts, the complete absence of any substantive corporate governance, and the uncommon 'New Age' parlance." At the same time, she wrote, the S-1 (Disclosures to the regulators about the company's financial health ) failed to provide many conventional financial details. ...S-1 laid bare a basic truth: WeWork's dominant position in the co-working industry wasn't a result of operational prowess or a superior product. Instead, WeWork had beaten its rivals because it had access to a near-limitless supply of funds, much of which it had squandered on expensive furniture, flamboyant perks, and promotions luring customers with below-market rents.
Anyone who reads this blog knows three things:
1. Innovation drives growth, and growth is almost everything.
As Novel laureate Robert Solow said, "Adding a couple of tenths of a percentage point to the growth rate is an achievement that eventually dwarfs in welfare significance any of the standard goals of economic policy.
2. Total Factor Productivity (the output measured relative to the inputs required to produce it) has grown much faster in the US than elsewhere. This is one of the best aggregate measures of innovation.
3. The
US has birthed more Unicorns
(startups with a $1B valuation) than any other country else: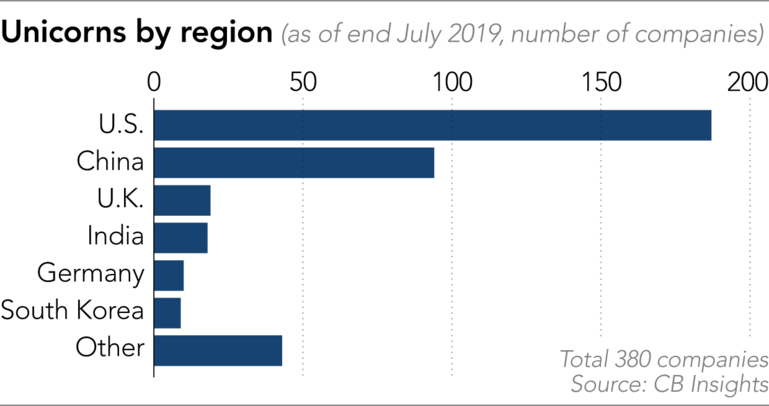 BOTTOM LINE: Innovation is hard to measure, but it looks like the US has it, so the Venture Capitalists who fund it must be doing something right. One cannot condemn an entire industry using a few anecdotes about how some startups fail--no matter how spectacularly.